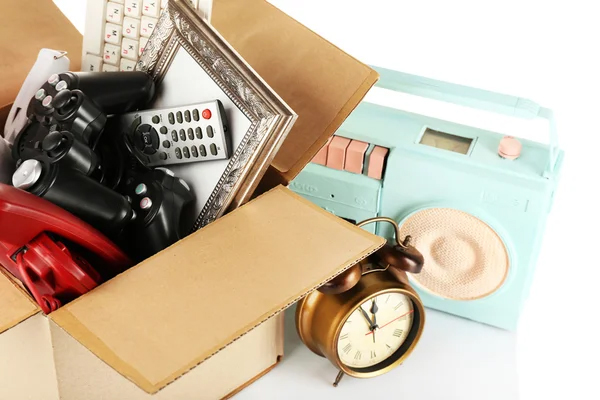 Life's a mess: don't stress, get the best! We understand that moving can be stressful, but The Mover Guys are prepared to handle every aspect of your next move. Let us assist you in relocating in a simple and efficient manner. At The Mover Guys, we work with you to ensure that all of your needs are met while staying within your budget, which is why we provide all of our clients with a no-obligation quote. Our trained professionals will walk you through the entire process from start to finish at no cost.
When preparing to move, it's important to go through your belongings and get rid of anything that is no longer needed or wanted. Here are some common items that you should consider tossing before moving.
Unused Clothing
Take a moment to look around your closet. If you're surrounded by the ghosts of fashion's past, it's time to do some serious purging! While getting rid of old clothing and accessories can be a difficult and time-consuming process, it is also one of the most effective ways to reduce both clutter and the cost of moving. After all, clothing takes up a lot of space in moving boxes and drawers. Consider these questions when deciding what to keep and what to discard:
Have you worn it in the previous year?
Is it still fashionable?
Does it still fit and is it in good shape?
If the answer is a resounding "no," then it's often best to dispose of the item of clothing prior to the move. You can choose to donate any items that are in good condition or even consider having a garage sale.
Left-Over Food
Remember to empty the fridge before moving! Go through your pantry and fridge and get rid of any food that is expired or that you know you won't use before the move. While you may be able to pack leftover snacks, canned goods, and pantry items for the move, we do not recommend doing so. To begin, unless you're moving nearby and have a cooler, perishable foods in your refrigerator and freezer must be removed. These include things like leftover milk, fruits, and vegetables. Non-perishables like canned goods, pasta, and rice are simple to pack for the move.
Old Kitchen Pots and Hardware
If you have pots and pans that you haven't used in a long time, or that are damaged, consider getting rid of them. The same goes for any kitchen hardware that you no longer need, such as stand-mixers, broken items, or anything you know won't fit in your new space.
Expired Medication
Check the expiration dates on any medication you have and safely dispose of any that have expired by dropping them off at any pharmacy in Canada. They're more likely to cause harm than good and you may as well get rid of them while you're tossing things out. You can do this with prescription drugs, over-the-counter medications, and natural health products.
Old Electronics
If you have electronics that are no longer working or that you no longer use, consider getting rid of them. You can often recycle these items at a local recycling depot or electronics store. We're all guilty of having too many unused electronics in today's world. There's no telling what you'll find stuffed inside someone's cabinets, from old tablets and smartphones to chargers and laptops. So, before you move, evaluate each of your electronics to see if it: 1. works properly 2. is up to date 3. is something you will need in your new home. You may also be able to donate your electronics to a non-profit organization if they are less than five years old and in good working condition.
Old Cleaning Supplies and Bath Products
Go through your cleaning supplies and bath products and get rid of any that are expired or that you no longer use. It's time to get rid of all of your old bath products, from empty shampoo bottles to 5-year-old hand lotions! We recommend getting rid of anything that has expired or that you no longer use. Don't forget to look through your old makeup, soaps, and washcloths.
Used furniture
Most furniture is bulky and heavy, so if you have items that you no longer need, consider getting rid of them. Donate items that are in good condition or have a garage sale.
Old and Unused Toys
Ask your kids first before you do this, as you never know what might hold sentimental value to them! Then, go through your children's toys and get rid of any that are broken or that they no longer play with. Many charities, hospitals, and second-hand stores will accept donations of toys.
Looking for a moving company with the services that meet your needs? Get in contact with Mover Guys and get a quote. Our trained professionals will walk you through the entire process from start to finish at no cost. Get started in moving all your boxes in Edmonton today!